HackMobilidade 2018 propõe soluções para melhorar a mobilidade urbana em São Paulo com olhar feminino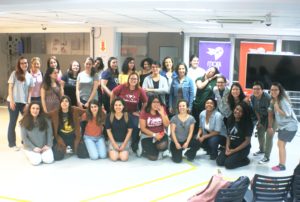 No último domingo (02/09) aconteceu o HackMobilidade 2018. O HackDay reuniu 21 participantes, todas mulheres, e teve como objetivo analisar dados relacionados à mobilidade urbana em São Paulo para propor soluções que contribuam para uma cidade mais acessível para pedestres e ciclistas. Para isso, as participantes tiveram acesso a diversas bases de dados de órgãos públicos da cidade, como Secretaria de Saúde, Companhia de Engenharia de Tráfego, SPTrans, entre outros. Essas bases de dados incluem informações como acidentes de trânsito,
---
Seminar in partnership with INES 2.0: Changing the world with Accessibility Technologies
When: Friday, August 3rd, 2018 3:00-4:30PM
Speaker: João Marcos Barguil (IME-USP)
Abstract: In Brazil and around the world, there are millions of people with various deficiencies. Besides, an aging population is a worldwide tendency, which implies a growing number of seniors in society, with diverse kinds of functional and cognitive limitations. Finally, women in the final stages of pregnancy, small children, or people without deficiencies but with temporary limitations, all benefit from Accessibility.
---
See more news