No segundo semestre de 2020 o INCT da Internet do Futuro para Cidades Inteligentes, em parceria com o Grupo de Sistemas de Software do IME-USP, organiza uma série de webinários com pesquisadores(as) convidados(as).
Os tópicos abordados nos webinários têm relação direta com a pesquisa que vem sendo desenvolvida pelos(as)  pesquisadores(as) do INCT.
4 webinários, abertos e gratuitos, nos dias 27/11, 4/12, 11/12 e 18/12, sempre às 10h00.
Palestra de 18 de dezembro de 2020 às 10h00
Título: "Designing smart city mobile applications: An initial grounded theory"
Palestrante: Eduardo S. Almeida e Roselane S. Farias (UFBA)
|Acesse aqui os slides da apresentação|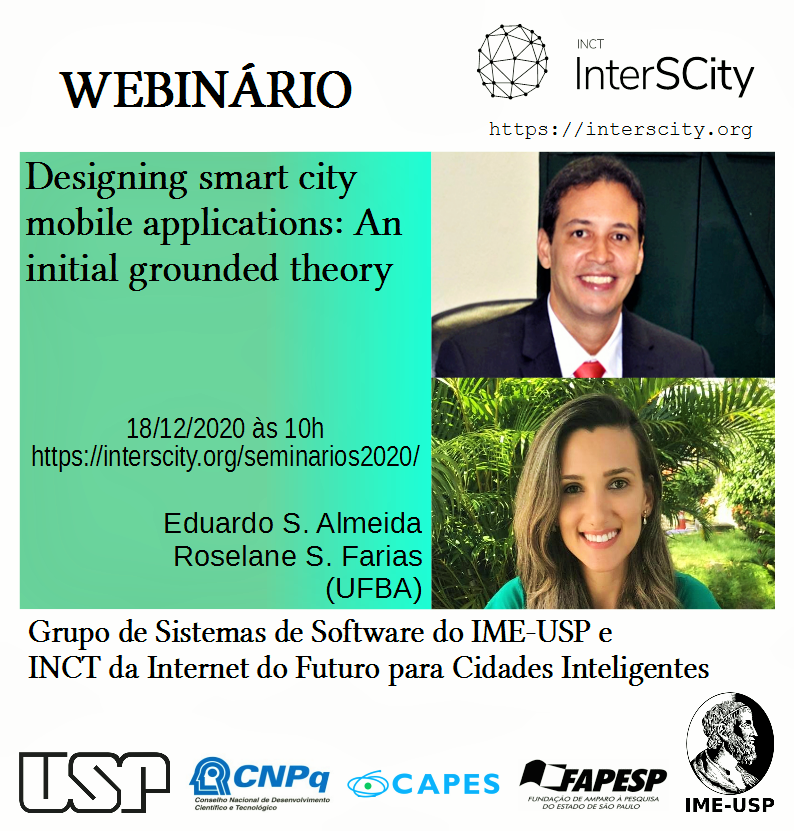 Resumo: The software architecture community has played a crucial role in the development of mobile software. Many of the ideas used in the design of these systems came from traditional software architecture and those ideas have contributed to what mobile computing has become: a powerful, adaptable, and robust trend. Mobile applications in the context of Smart Cities are very challenging since they need to operate within the battery power, processor speed, and capacity limitations of mobile devices, but also the exacting demands of life-critical smart city requirements, and operate in a constantly changing and exposed environment, which may not always be trusted. Since there are no widely accepted design models for this type of software, architects and developers resort to primitive design decisions to meet all the needs of these applications, which takes additional time and expertise. For this reason, this study aims to build a theory about the design process for mobile applications in the context of smart cities from the perspective of software development time. Aiming to mitigate the lack of verified information about designing mobile apps, we conducted a multi-case study with 9 mobile applications developed by 4 software development teams. Six applications were reverse engineered to expose the architecture of each application. Based on all the data collected, an initial grounded theory model was constructed to explain how the selected design process produces an app with the desired characteristics. The model built through this work offers explanations for how software engineering teams design mobile apps for smart cities. This knowledge will serve as a basis to further understand the phenomena and advances towards more effective design and development process definitions.
Bio: Eduardo Almeida is an associate professor in the Department of Computer Science at the Federal University of Bahia, where he leads the RiSE (Reuse in Software Engineering) Labs. His research interests include software reuse, software product lines, software architecture, and empirical software engineering. Almeida received a Ph.D. in computer science from the Federal University of Pernambuco. He's a senior member of ACM and IEEE. He is the author or coauthor of over a hundred peer-reviewed scientific publications, and serves regularly in program committees of highly ranked international conferences.
Roselane Silva Farias is pursuing a Ph.D. degree in Computer Science at the Federal University of Bahia (UFBA), supervised by Professor Eduardo Almeida. She received a master's degree in Computer Science from the Federal University of Bahia (2019), and a bachelor's degree from UFBA in 2016. During this period, she was a visiting scholar at Xavier University and a visiting researcher at Clemson University (United States), supervised by Professor John McGregor. Her research interests include Software Architecture, Smart Cities, and Software Testing. She currently works as a Quality Analyst at Wex Inc., a leading global payments solution company.
Palestra de 11 de dezembro de 2020 às 10h00
Título: "User Experience Guidelines for Designing HMD Extended Reality Applications"
Palestrante: Tiago Silva (ICT-Unifesp)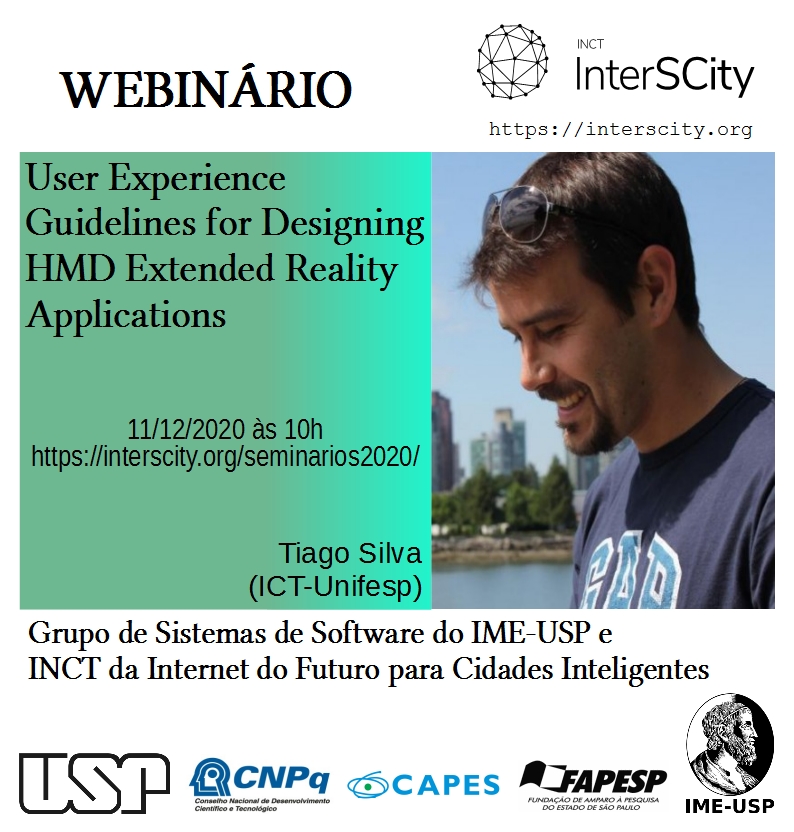 Resumo: With the rise of Extended Reality (XR) technologies, such as head-mounted displays (HMD) for Virtual Reality (VR), Mixed Reality (MR), and Augmented Reality (AR), designers are presented with many unique challenges and opportunities when creating applications. Publications can be found from research and industry that offer insights and ideas surrounding user experience (UX) for XR applications. However, these publications often vary in format and content. Based on a thorough analysis of 68 different resources from research, industry, and 2D design, we present a set of eleven UX guidelines for designing XR applications. Our work serves as a reference to the literature for understanding what others have tried and discovered and provides an integrated set of guidelines. Furthermore, our guidelines offer guidance to a software developer to aid in the design of XR applications for HMD devices.
Bio: Tiago Silva da Silva is an Assistant Professor at the Science and Technology Institute of the Federal University of São Paulo (UNIFESP). His research interests include agile methods, user-centered design, agile user-centered design, immersive applications, developer experience, data visualization, and visual analytics. Tiago received his M.Sc. and Ph.D. in Computer Science from the Pontifical Catholic University of Rio Grande do Sul.
Palestra de 4 de dezembro de 2020 às 10h00
Título: "Cidades nas Nuvens: Os benefícios e desafios da computação nas bordas para as cidades inteligentes"
Palestrante: Eduardo Cerqueira (UFPA)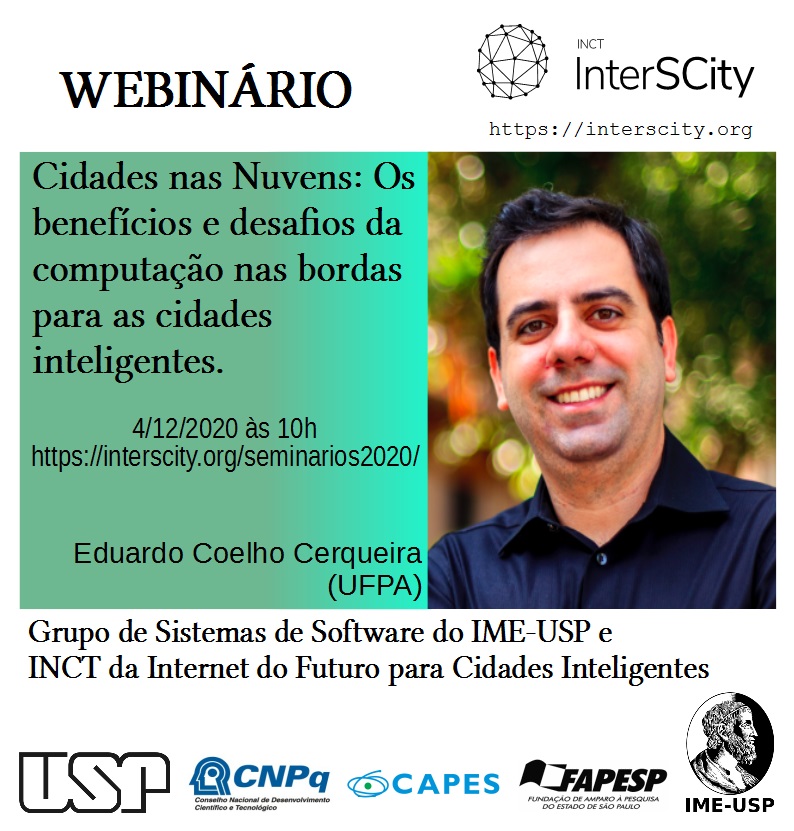 Resumo: A computação em nuvem está avançando para as bordas das redes e vem se consolidando como peça fundamental nas redes 5G. A computação nas bordas (FOG, EDGE e MIST computing) permite que serviços, dados e recursos sejam gerenciados mais próximo dos usuários e, consequentemente, uma melhor utilização dos recursos de rede e computacional e um tempo de resposta (ultra) baixo para as aplicações. Esta palestra visa apresentar conceitos de computação nas bordas, bem como os benefícios desta abordagem para aplicações de cidades inteligentes. Por final, serão discutidos desafios e oportunidades na área.
Bio: Eduardo Cerqueira é professor Associado II do Instituto de Tecnologia da Universidade Federal do Pará (UFPA), Membro da Academia Brasileira de Ciências (ABC) e bolsista de produtividade do CNPq – nível 1D. Doutor pela Universidade de Coimbra em 2008, Eduardo realizou seu primeiro pós-doutorado em 2009 em conjunto com a Universidade de Coimbra (Portugal) e estágio na Universidade de Lancaster (Inglaterra) e seu segundo pós-doutorado na Universidade da Califórnia em Los Angeles – UCLA (Estados Unidos) em 2013 – 2014. Eduardo possui 4 patentes com registro internacional, 4 livros organizados e mais de 220 artigos em periódicos e eventos nacionais e internacionais. Seus interesses incluem cidades inteligentes, mobilidade, computação em nuvem e multimídia.
Palestra de 27 de novembro de 2020 às 10h00
Título: "Supercomputador Santos Dumont: Visões de quem usa e de quem opera"
Palestrante: Antônio Tadeu Azevedo Gomes (LNCC)
|Acesse aqui os slides da apresentação|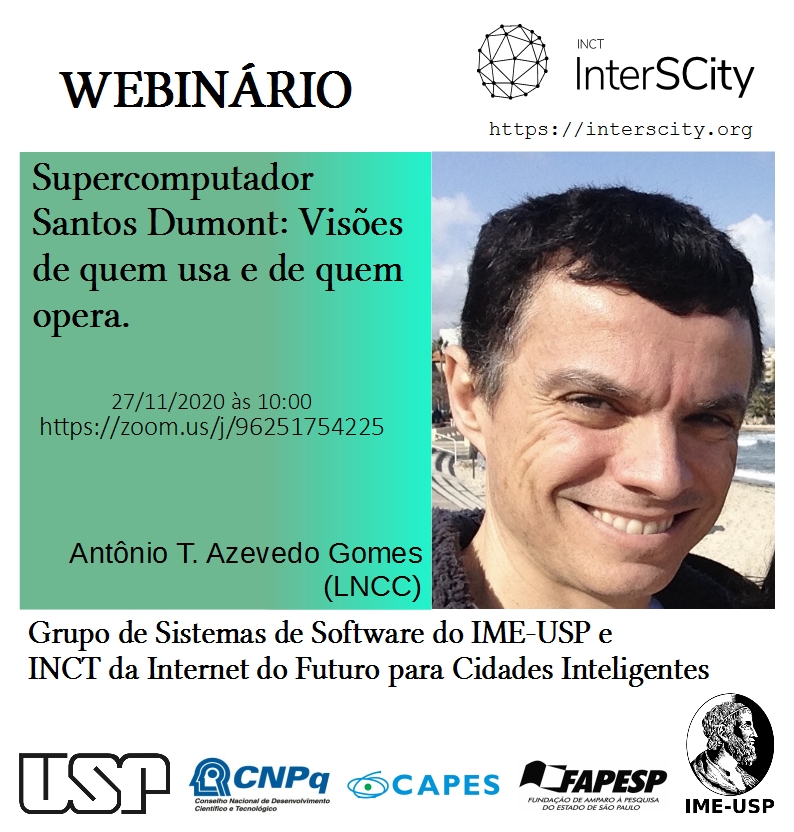 Resumo: Nesta palestra apresentaremos a infraestrutura de hardware e a pilha de software do supercomputador Santos Dumont. Particularmente no que tange ao software, serão enfocadas não só as ferramentas acessíveis pelos usuários, como também as acessíveis pelos operadores do supercomputador. Serão apresentados também os principais projetos que fazem uso do supercomputador e como esses projetos são avaliados e implementados, bem como algumas estatísticas de uso e de produção associada a esse uso.
Bio: Antônio Tadeu A. Gomes é pesquisador do Laboratório Nacional de Computação Científica (LNCC). Tadeu, como é mais conhecido, é chefe do grupo de pesquisa Innovative Parallel finite Element Solvers (IPES), secretário executivo do Sistema Nacional de Processamento de Alto Desempenho (SINAPAD), e coordenador do comitê gestor do supercomputador Santos Dumont (SDumont). Tadeu é doutor em computação pela PUC-Rio (2005). Suas principais áreas de interesse são em redes de computadores, sistemas distribuídos, computação de alto desempenho, e arquitetura de software. Tadeu também é membro da Association for Computing Machinery (ACM) e da Sociedade Brasileira de Computação (SBC).